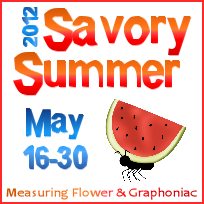 The giveaway of the summer has begun! If you are ready to get your mouth watering and taste buds tingling the keep reading!
One of our fantastic sponsors for this Savory Summer giveaway package worth $463 will be put out to bask is the spotlight right here! This spotlight will feature
Xtrema Cookware is a fantastic company that is making cooking green! Here is a little from Xtrema on why their cookware is green (several different excerpts):
Traditional non-stick cookware contains PFOA, a chemical used to bond non-stick coating to the pan. This has been discovered as toxic, and has been blamed with killing pet birds when heated to a high temperature. It has been deemed a "likely carcinogen" by the Environmental Protection Agency (EPA) and manufacturers are being asked to phase it out by the year 2015.

Xtrema's revolutionary non-scratch surface contains no harmful PFOA coating and produces no harmful PFOA gas.

The surface of Xtrema cookware and bakeware resists bacteria, making it even safer for your family.

The kilns used for manufacturing Xtrema's eco-friendly, non-reactive, green cookware use clean burning, safe natural gas so not only is it safe for those who cook with it, but it's safe for our valued employees who manufacture it and safe for the earth, as well.
All of the Xtrema cookware is non stick and scratch resistant! Usually using non stick pans means having to be careful not to scratch the coating. Another fantastic benefit is that you can do pretty much anything with this pan! It can go in the oven, stovetop, microwave, dishwasher or freezer!
There are more than just pans too! Some my other favorite items from Ceramcor are:
FridgeX multi purpose food storage set that collapses for storage!
This awesome saucepot and steamer set! I would LOVE to try this out!
This is a super awesome 4 qt boston bean $ soup pot! Another item I would LOVE!
How I used the skillet:
I have a recipe
here
to share with you using the Xtrema 10 inch Open skillet. I have used my 10 in. skillet in the oven, on the stove and have put it in the dishwasher and it still looks like new! I also have to say that I don't have to worry about other cooks in my house using the wrong utensils on it! Usually I have to make sure Amber doesn't use the metal spatulas or serving spoons on non stick cookware but I have no worries with this one!
Connect with Xtrema:
You can find the awesome products featured here and much more online! Or find a
retailer near you
!
If you want updates, deals and other information you should become a fan on
Facebook
and follow on
Twitter
! For even more updates sign up for the
Ceramcor
eNewsletter. It is on the right side of the home page!
The Giveaway:
Ceramcor is giving an Xtrema 10 inch Open Skillet to one of my lucky readers in the Savory Summer prize package!
Enter the giveaway HERE!
Disclaimer: I received a product from this company in order to share my opinions with you. I was not compensated in any other way for this review and all opinions are 100% mine!