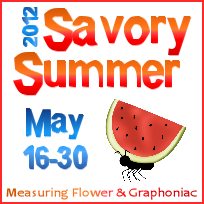 The giveaway of the summer has begun! If you are ready to get your mouth watering and taste buds tingling the keep reading!
One of our fantastic sponsors for this Savory Summer giveaway package worth $463 will be put out to bask is the spotlight right here! This spotlight will feature
BigKitchen is a one stop location for the inspired chef in all of us. They search the world to bring you the best selection of inspired cookware, cooking tools and accessories. They are a strong believer in allowing the customers to have the best selection of products to choose from. They are always seeking new and exciting products to delight our loyal customers!
BigKitchen is sponsoring 2 products in the Savory Summer giveaway! They are the
FULL CIRCLE SCRAP HAPPY SCRAP COLLECTOR AND FREEZER COMPOST BIN and the FULL CIRCLE FRESH AIR KITCHEN COMPOST COLLECTOR!
The Scrap Happy Scrap collector and freezer compost bin is a small silicone bin that has a metal rim that hooks onto a drawerso that you can just push your trimmings after you chop veggies etc right into it and then use the hook to put them right into the freezer! Putting your scraps into the freezer eliminates any smells, or flies and keeps them frozen until compost time! It comes in a variety of colors but the winner of this giveaway will receive a random color of the sponsors choosing.
The Fresh Air Kitchen Compost Bin is unlike any sealed container. It contains a wind flume feature that allows air to flow through the bin. This keeps your composting scraps drier though the process and allows it to decompose at a slower rate. This will improve any issues with odor, flies and messiness. It is made out of recycled materials and requires no filter! They even include 5 compostable bags to get you started.
How I used it:
The Scrap Happy is hooked onto my silverware drawer. When I prep any food I just push the ends, skins and extra bits that don't make it into my recipe right into the bin! There is no spilling as I carry my cutting board around the kitchen. Then the scraps go right into the freezer to eliminate any smells until I decide to add it to the compost bin! There is no need to try to get anything stuck to the bottom because it is so flexible you can just invert it.
The compost bin sits on my counter and does a very nice job! This is my very first compost bin so I really don't have anything to compare it to. What I can say is that this has made it easy to start composting. I think if it smelled to bad or attracted any unwanted pests I would definitely think again about composting at all. This bin takes up very little room and can also be disassembled and put in the dishwasher. We are having fun with our new adventure in composting.
Connect with this company:
You can find the eco friendly products featured here and much more at
BigKitchen.com
!
If you want updates, deals and other information you should become a fan on
Facebook
and follow on
Twitter
!
Disclaimer: I received a product from this company in order to share my opinions with you. I was not compensated in any other way for this review and all opinions are 100% mine!