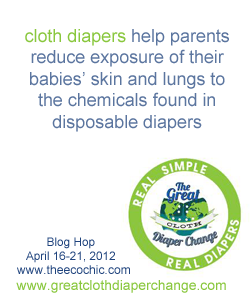 Have you ever smelled a disposable diaper? Before I was welcomed into the cloth diapering world, when I was pregnant with Charlotte (second baby), I got a sample from a disposable diaper company in the mail. It had been 10 years since I was pregnant the first time. I recognized the smell right away. It smelled like "baby"! The simple fact that I could smell the same smell from years ago meant something completely different at the time. At the time, it took me back and reminded me why we tried for 6 years to get pregnant. Looking back now... It meant chemicals!
It is a big secret what is actually IN a disposable diaper! Diaper companies hide their "ingredients" due to proprietary information. I really think they are hiding for far different reasons. We know for a fact that disposables contain super-absorbent polymers (SAP) That is how they can hold so much liquid! But what else is in them?
Other ingredients suspected/known to be inside of a disposable diaper include: Chlorine, stearyl alcohol, cellulose tissue, sodium acrylate, potassium acrylate, alkyl acrylate. I don't want to put that on my babies sensitive little bottom! Not only is it unappealing to be pressed against the most sensitive parts for practically 2 years straight or more. It also can have an effect on the respiratory system.
Diaper from Sew Is Your Baby
One Study (
Anderson Laboratories, Inc., West Hartford, Vermont
) showed a connection between disposable diapers and asthma! Lab rats (I DO NOT agree with testing on animals) were exposed a cloth diaper and to 3 brands of disposable diapers for an hour each. "
In response to two brands of disposable diapers, many mice exhibited reduced mid-expiratory airflow velocity, sensory irritation, and pulmonary irritation.
" The results were even higher with repeat exposure. The results of the study state: "
Disposable diapers should be considered as one of the factors that might cause or exacerbate asthmatic conditions."
That is enough for me! Putting aside the fact that they don't decompose, ignoring the chemicals and possible diseases (from fecal matter not being flushed) that is absorbed into the ground water, forgetting the thousands of dollars being spent on disposable diapers (both for consumers and in production costs).... Knowing that all-natural cotton or bamboo is cushioning Charlotte's bottom is not only comforting to her, it is comforting to me and our precious planet!